Become A Certified Influencer Marketer
Interested in learning the ins and outs of making Influencer and Content Marketing Work?
Access our full-length videos and library of content offerings!
Animated Videos

eBook Guides

Infographics

Certification

Educational Material

Case Studies

Quizzes & Exams

Surveys

Full-Length Training Videos

Mp3 Downloads

Transcripts

Unlock additional classes
And Even More!
There Is No Other Course Series Available - Online Or In The Classroom - With This Much Real World How-To Experience
Made Available To Learn From!
The most comprehensive online course about building brand awareness and measureable cost-effective marketing.

What You'll Learn:
How influencer marketing, celebrity marketing and product placement work the best – and most affordable ways – to create influencer and branded content marketing strategies How to avoid marketing mistakes and know where the pitfalls may be Identify new marketing channels for your brand, and what success should look like Identify the components of a well-defined influencer and content marketing strategy and how it might influence overall business strategy What budgets are needed to create effective campaign
Features You'll Want to Take Advantage Of:
Get hours of our updated MP3 audio's with full transcripts.

Receive bite size, easy action marketing recaps as downloadable infographics.

Receive eBook guides help you put these marketing practices in place for your brand partnerships.

Access to detailed case studies to industry best practices & learn what other brands are doing.
Every lesson is animated with downloadable slide decks to keep the education interesting and fast paced!
Get a massive amount of Full HD video streamed in 1080p.
Even more content is coming! We publish new content frequently, and as this course expands in the future you will get all the upgraded content for free.

This Course Series Is Excellent For:
Marketers who want to hone their own skills for continued growth.
Brand managers who aren't quite ready to hire an agency to help, but want to jump-start their brand's influencer marketing program.
Students preparing for jobs after college in the PR, media and creative agency or influener and entertainment industry.
Brand marketers who want a solid foundation to truly understand what programs offer the best ROI for their goals, what to budget for, and what to expect in return.
This coursework provides knowledge and solutions to address common advertising challenges for brand managers, including how to:
Heighten market share perception
Drive revenue
Increase website traffic
Differentiate from competitors
Update brand image
Provide investor interest
Highlight product quality
Influence consideration
WELCOME TO HOLLYWOOD BRANDED'S
INFLUENCER & CONTENT MARKETING SCHOOL
Get ready to learn and advance your influencer marketing game!I created these courses specifically for brand marketers, as well as those planning on working for brands and their agencies, to provide insight into how influencer marketing strategies work, and the best practices and strategies to make them do so.
Over twenty years ago I began my journey in content marketing, first working on product placement partnerships in films and TV shows, then creating more robust branded content partnerships, with brands playing a larger role in third party content, and ultimately leading to helping brands produce and distribute their own branded content, crafting storytelling to share the brand's messaging to an actively engaged audience.
Along the way, my brand partnership deals with content led to celebrity endorsement partnerships, where I worked with brands to match make them with celebrities who would appear in the brand's advertising media or as a face in the brand's retail marketing setting, or even onto the brand packaging itself, to enable the brand to stand out from competition, and leverage that celebrity's own fan base into becoming more aware of – and interested in – that brand.
Celebrity endorsement brand partnerships led to the current marketing practice of Influencer Marketing, and I and my team at Hollywood Branded have been on the front row of not only watching this industry trend come to life, but playing an active daily role in guiding and working with brands and influencers to create the most beneficial partnerships possible for both parties.
Become A Certified Marketer!
Our Influencer Marketing School provides content, classes and certifications
Get Educated
Join the 2,700+ marketers who've transformed their knowledge and careers with Hollywood Branded's Influencer and Marketing School.
Easy To Understand
Simplified how-to-do marketing that you can immediately put into action!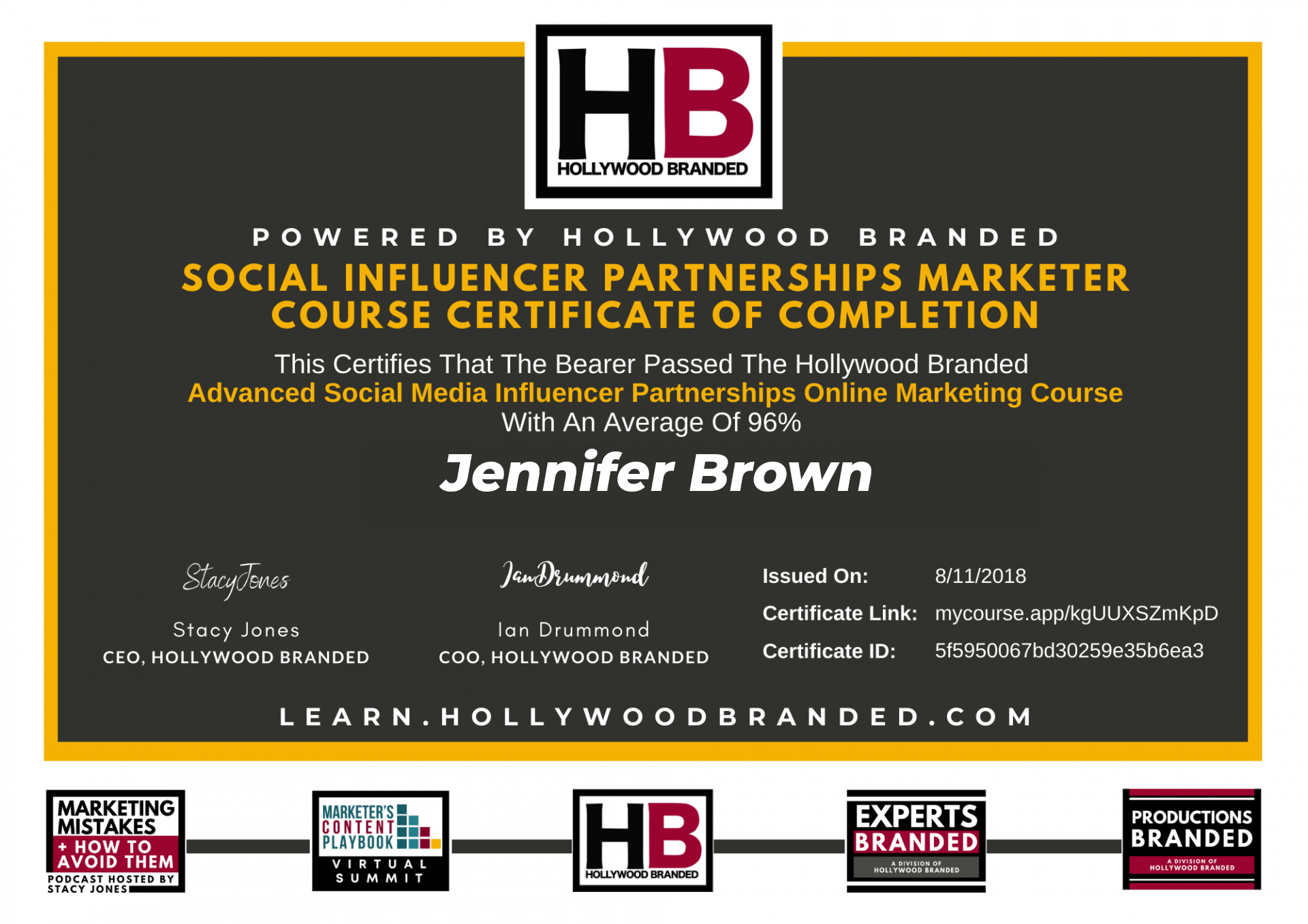 Get Certified
Watch all our training materials in each module and get at least 80% passing score to get certified + and a social certificate!
Showcase Your Knowledge
Share your certificates to your social networks (Facebook, LinkedIn, Twitter).
Stacy Jones
Stacy Jones, the CEO and founder of Hollywood Branded, a Los Angeles influencer and entertainment marketing consultancy, has over twenty years of leadership experience building global branding campaigns for top Fortune 500 companies and hundreds of brands. Acknowledged as an expert in the field, she has appeared on CNN and MSNBC, France's 50'Inside and Canal LeTube; spoken at conferences around the globe from Germany to Beijing; and been featured in media outlets including Forbes, The Wall Street Journal, The Economist, The Business of Fashion, Advertising Age, and numerous additional media outlets. Learn from her 20 plus years of experience as she shares top notched advice on marketing best practices for brands and walks you through how to better leverage influencers, celebrities and entertainment content partnerships to increase your ability to improve brand partnerships, consumer engagement and sales

SOCIAL INFLUENCER MARKETING
$695
12 Social Influencer Brand Partnership How-To Video Classes

eBook

Video Transcripts

Animated Videos

Case Studies

Slide Downloads

MP3 Audio Downloads

Quizzes

Exam

12 Social Influencer Brand Partnership How-To Video Classes
CELEBRITY MARKETING
$995
10 Celebrity Brand Partnership How-To Video Classes

eBook

Video Transcripts

Animated Videos

Case Studies

Slide Downloads

MP3 Audio Downloads

Quizzes

Exam

Receive Certified Social Influencer Marketer Badge
Frequently asked questions
The Importance Of This Class
The marketing practice of leveraging influencers to impact their own fan base with content they have created will continue to evolve and grow in the years ahead, as it becomes even more so of a required marketing strategy and brand awareness building block for every brand. All of these forms of influencer marketing – product placement, celebrity endorsement, and social influencers - offer brands a tremendous opportunity to target niche audiences to build awareness, engagement and trust. However, influencer marketing is in general hampered in large part due to the lack of standardized communication practices and pricing strategies, the need to be open to creative decision making, and the inaccurate expectation that influencer marketing will immediately result in sales. This class series will provide you with the foundation to truly know how to make campaigns successful for the brand partner.
Our Influencer & Content Marketing School is for brand owners, marketers and their agencies, and students on the pathway to become marketers, to learn my agency's insider tricks and tips to making influencers and entertainment content marketing work for their own brands. I want to make it easy for you to understand the best marketing practices I've learned from my own years of being in business - and avoid making marketing mistakes that will waste your time, money and overall success of the partnership.
My guarantee to you is that this class series will provide you unparalled insights and strategies to influencer marketing that will take your marketing game to the next level, making you better equipped to deploy these strategies, and make you much more marketable in your current, or future, employment.
FAQ 1 descriptioWhen you enroll in Hollywood Branded's Influencer Marketing School, you will learn the ins and outs of making Influencer and Content Marketing work for your brand. Included in this program are full length videos, each with actionable steps to take for success within the specific strategy being discussed, transcripts, infographics, eBook guides, case studies, survey research on the industry, audio downloads, animated videos, so much more additional educational material. Each topic is accompanied by quizzes to test your knowledge and make sure you have a rock-solid foundation of understanding.
This program even provides you with the pathway to become a certified influencer marketer by Hollywood Branded, a certification process we formally only offered to our agency team members. Please join me and learn from my 20 years of experience as I personally share my insights and advice on influencer marketing best practices for brands, and walk you through how to leverage entertainment content, celebrities and social influencers as a marketing strategy to increase a brand's overall consumer engagement and, most importantly, brand sales. I am so proud of the course work we have designed for you, and I look forward to helping you learn from Hollywood Branded's Influencer and Content Marketing School and assisting you in making these strategies work for you!n
Sign Up For Updates
Get notified about new classes, our annual Marketer's Content Playbook virtual event, e-books, and discounts for Hollywood Branded Influencer Marketing School.

LET'S WORK TOGETHER!
The new Hollywood Branded Affiliate Program has landed
Love What We Are Teaching And Want To Help Spread The Word? Join Our Affiliate Program!
Refer other marketers to join our classes and e-books, and earn commissions!